To the Camp Kirk Community,
It is with equal parts sadness and excitement that I share that my time with Camp Kirk is coming to an end. This year will mark my 20th summer at camp, and 13 years full-time with the organization. The years have been filled with all that a person can hope for in life- a loving community, more belly laughs than I can count, and the opportunity to have a meaningful impact. It has not been an easy decision to move on from Camp Kirk, but I do feel the time is right for both me and the organization.
Camp Kirk is, and forever will be, near and dear to my heart. For this reason, I could never step back unless I knew the organization was in good hands. Over the past six months I have been training my good friend Sean McKenna to take over the leadership of the camp program. I have endless faith in Sean's ability to keep the heart and soul of Camp Kirk alive, and to foster the spirit of inclusivity in our programs. Our Development Director Tara and our Board of Directors lead with heart, and do an incredible job ensuring the organization is in a strong state to support our camper families. With the leadership team that we have in place, I have nothing but confidence that Camp Kirk will continue to thrive in this next chapter.
In the spirit of Camp Kirk, I hope our community can band together to find our next Executive Director. We are looking for someone who will celebrate the unique aspects of the CK community, and who will be a fierce advocate for our families. This individual will be tasked with expanding our fundraising efforts to meet the increasing costs of our developing programs. They need to be someone who can speak from the heart, and have a genuine drive to build community. Please spread the word, and help us find this gem of a human! The job posting can be found here: Executive Director Job Posting
It has been a great honor leading the Camp Kirk community over the past 13 years. I have loved every minute of working with our kids, families, staff, and supporters. I have set my last day to August 31st so that I can support our Camp Director Sean to host camp this summer. I hope to connect with all of you, in some capacity, before I say my final goodbyes!
Sincerely,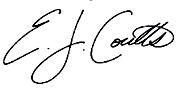 Erica Park-Coutts
Executive Director