Our Approach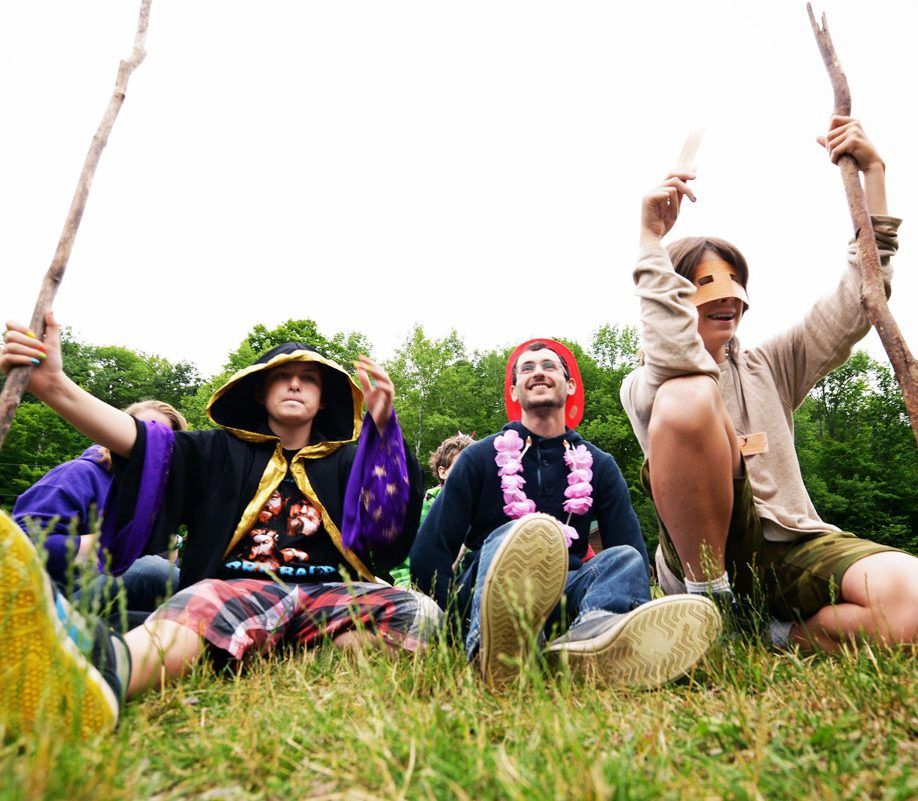 We design our recreation programs with neurodiverse kids and youth in mind. 
We have a high staff to camper ratio:
Small group sizes allow our campers to make their mark on the community and build a sense of belonging. With 1 staff for every 2 campers, we can provide customized care to ensure every child experiences success.  At Camp Kirk this looks like 'sideline coaching' to navigate a social conflict, going to the Rock Throwing Range when frustration spikes, or getting prompts for upcoming transitions. 
Our programs are non-competitive:

We play team games, however, there is not a big focus on winning and 'being the best'. We aim to provide campers with an environment where the focus is on trying (and trying again!), learning from mistakes, and being part of the group. We often find our campers opt-out of programming when there is attention drawn to who wins/loses, and they end up missing out on the benefits that come from just joining in.
We take a nurturing approach
A child sitting in the corner by themselves may be shy. But they could also be overstimulated, confused by the instructions, or having a tough time joining in the social mix.  At Camp Kirk, we try and hold back assumptions about surface behaviour so we can get a true understanding of a child's needs.  We go the extra mile to get to know our campers and their families so we can create care plans to bring out the best in each child. 
We have a Group Focus
Many of our campers have a tough time excelling in large groups. However, they are at a stage where they are ready to learn the skills needed to tackle social settings and develop meaningful friendships. For this reason, our programs are designed to be small, but with a group focus. This gives our campers the perfect setting to practice conflict resolution, perspective taking, and compassion. 
Hear what our families have to say 
Application Process
We work hand-in-hand with families to assess whether our program has the right approach and level of support for each camper. Our application process includes several helpful "get to know you" steps, such as a camper visit and teacher referral form. These steps are designed to make sure you and your child feel confident about the camp experience and are ready for the adventure ahead.
Unsure whether Camp Kirk is the right fit for your child? Submit an inquiry form to get in touch with one of our Camp Directors- we'd be happy to chat!
Step 2
Talk to a Camp Director
Our Camp Directors will contact you to learn more about your child. Once you and the Camp Director have confirmed that Camp Kirk is a good fit, a $50 deposit payment is required to continue the application.
Step 3
 Book your Camper Visit
This video meeting with your child is a chance for us to get to know your child better, and to find out how we can best support them at camp. 
Financial Aid
Camp Kirk offers a Financial Aid program to ensure our services and support are financially accessible. Any family is welcome to apply for our Financial Aid program, and we work on a 'pay-what-you-can' model. 
How do I apply for Financial Aid?
1. Fill out a Camper Application:
In the 'Financial Aid' section of the application, state what you can reasonably contribute towards camper fees. We work on an honour system, and do not require 'proof-of-need' documentation.
2. Camp Kirk will fundraise on your behalf:
Our office staff works hard year-round to build our subsidy fund, and they will reach out to donors and community funders on your behalf.
In rare cases, we may have a funding opportunity that requires a direct application from a camper family. In these situations, we would aim to make the process as easy as possible- we would ask if you are interested in the funding opportunity, and our office staff would provide support to fill out the application. 
3. Fill out a year-end survey:
We ask families to help us with fundraising initiatives by filling out year-end surveys. Survey results and testimonials are used to report back to donors who supported our financial aid program. 
 If you have any questions about Camp Kirk's Financial Aid Program, please contact us.
Program Policies
Curious about certain camp policies? Take a look at some of our key documents below, and don't hesitate to reach out if you would like to learn about other policies not listed.
Overnight Summer Camp
Camp Kirk's overnight camp experience – a nurturing and non-competitive environment.
+
Mentorship Programs
Supporting youth through the transition to adulthood. Our mentorship program help youth develop their leadership potential, independence, and employment skills.
+