"I think camp helped Matty to realize that his diagnosis isn't uncommon. That he can be accepted for who he is, and that he can be proud of who he is, and ultimately proud that he has ADHD. He sees it in a positive light, more as a "superpower" or a special trait that not everyone gets to have."
~Linda, 1st year parent
Our Facilities + Activities
Camp Kirk is small in number and in size for a reason- to ensure no one gets lost in the mix! Our strength is creating warm and welcoming spaces to empower our campers to take risks, build friendships, and have fun. To learn more about what makes Camp Kirk unique, visit our About Our Programs section. 
Our programs are designed to build confidence and encourage participation. We use a 'challenge by choice' philosophy, which means everyone is expected to participate, but campers choose the way they join in the fun.
Check out our Camp Tour video to see our facilities and programs in action.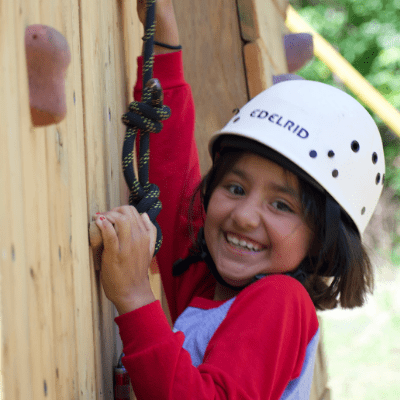 Rock Climbing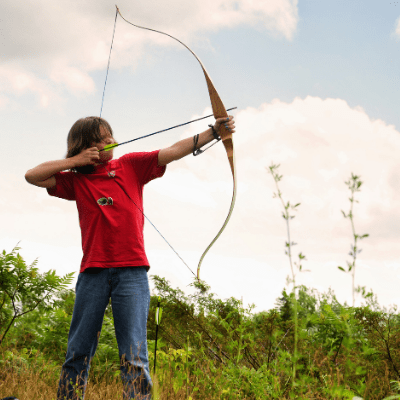 Archery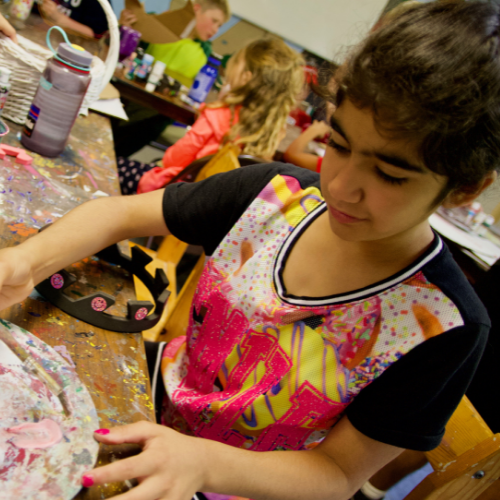 Arts & Crafts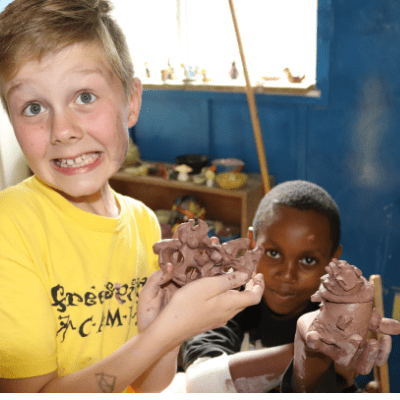 Pottery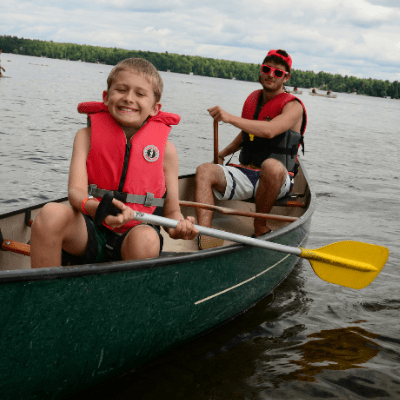 Canoeing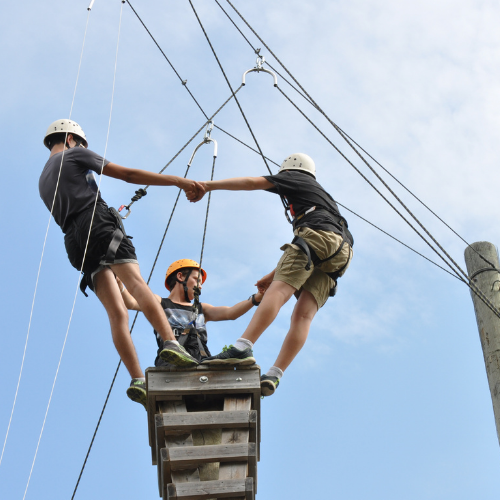 Ropes Course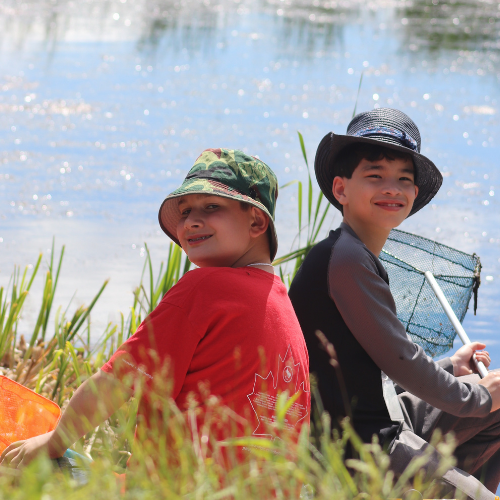 Ecology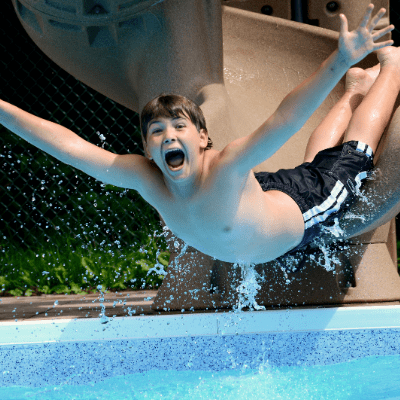 Swimming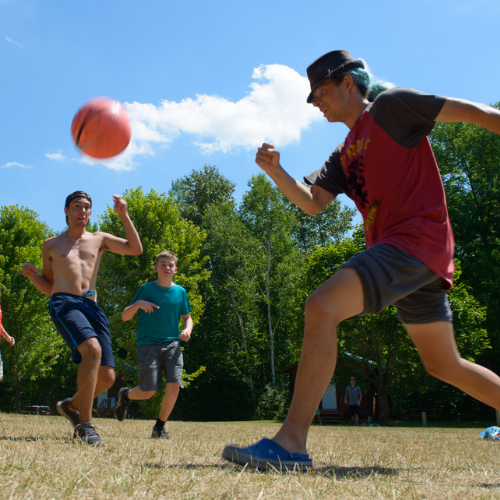 Sports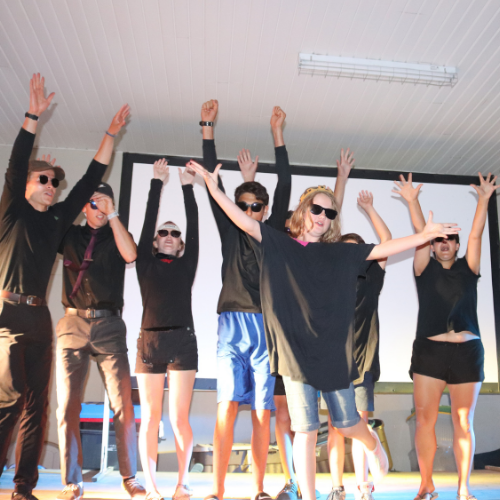 Drama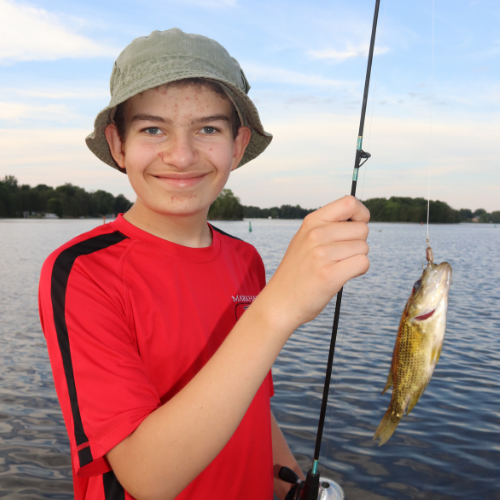 Fishing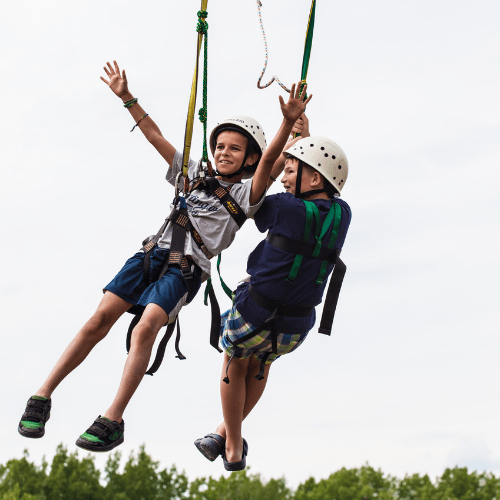 Giant Swing
A typical day at Camp Kirk
At Camp Kirk, we strive for a balance of structure and flexibility within our camp day. We put a big focus on schedules and routines so our campers know what to expect, but we weave in plenty of time for free choice so campers can follow their interests and make their mark on camp.  Check out the schedule below or download a pdf.  
Daily Schedule
7:45 – Wake Up
8:15 – Kitchen Patrol (Table Setting) & Meds (as applicable)
8:30 – Breakfast
9:30 – Program Period 1 (Mixed Groups)
10:30 – Program Period 2 (Mixed Groups)
11:30 – Free Time
12:15 – KP & Meds
12:30 – Lunch
1:00 – "Rest Hour" (Quiet Activity Time)
2:00 – Afternoon Prep
2:30 – Program Period 3 (Cabin Groups)
3:30 – Program Period 4 (Cabin Groups)
4:30 – Afternoon Snack
4:45 – Free Time 
5:15 – Clubs (choice activities)
6:15 – KP & Meds
6:30 – Dinner
7:30 – Evening Program (Cabin Activity, Special Event, All Camp Game, Campfire)
8:30 – Closing Circle + Evening Snack
9:00 – Get Ready for Bed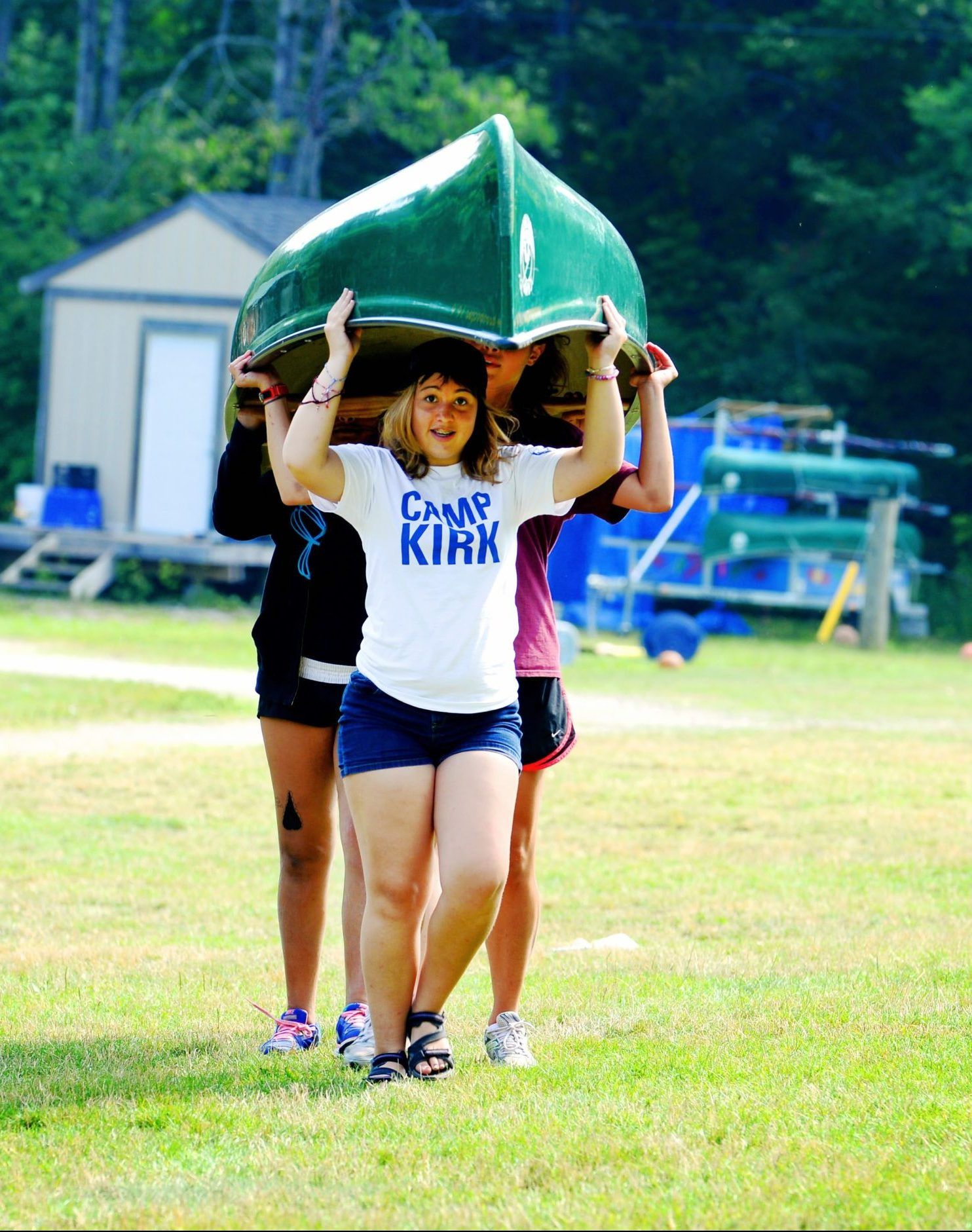 Health & Safety
The wellbeing of our campers is a top priority for us. Here's how we ensure campers are in a healthy and safe state while at camp:
Health Hub and Health Care Coordinator – Centrally located at camp, the Health Hub is the place to go for all matters concerning health and wellness. From cleaning scraped knees to distributing medication, our Health Care Coordinator ensures we're in tip top shape to enjoy camp. For any health concerns requiring additional care, we use the support of the local medical clinic (5 minutes away) and the local hospitals (20 minutes away).
Individual care plans. For campers with special health concerns, we work closely with families to create individualized care plans. Our Health Care Coordinator, Camp Directors and staff work collaboratively to ensure campers get the care they need without interrupting the fun of camp. 
Plenty of supervision. With a 2:1 camper to staff ratio, there is plenty of supervision and support to help campers take safe risks. Our grounds were designed so campers can roam free within Main Camp, while always being in close proximity to staff. 
Dates
July 3 – July 10 (8-days)
July 13 – July 20 (8-days)
July 23 – July 30 (8-days)
August 3 – August 13 (11 days)
August 16 – August 23 (8-days)
Cost
$2,120
$2,120
$2,120
$2,915
$2,120
Learn about our Financial Aid Program
Financial Aid
Camp Kirk offers a Financial Aid program to ensure our services and support are financially accessible. Any family is welcome to apply for our Financial aid program, and we work on a 'pay-what-you-can' model. 
How do I apply for Financial Aid?
1. Fill out a Camper Application:
In the 'Financial Aid' section of the application, state what you can reasonably contribute towards camper fees. We work on an honour system, and do not require 'proof-of-need' documentation.
2. Camp Kirk will fundraise on your behalf:
Our office staff works hard year-round to build our subsidy fund, and they will reach out to donors and community funders on your behalf.
In rare cases, we may have a funding opportunity that requires a direct application from a camper family. In these situations, we would aim to make the process as easy as possible- we would ask if you are interested in the funding opportunity, and our office staff would provide support to fill out the application. 
3. Fill out a year-end survey:
We ask families to help us with fundraising initiatives by filling out year-end surveys. Survey results and testimonials are used to report back to donors who supported our financial aid program. 
 If you have any questions about Camp Kirk's Financial Aid Program, please contact us.
Frequently Asked Questions
How is camper communication handled? Can campers phone home?
Campers can stay in touch with family and friends through:
'Snail Mail': Campers can place their envelopes in the camp mailbox. If they receive a letter or package, mail will be placed in their cabin group's mailbox.
Email: Family and friends are welcome to send emails to their campers. Simply send a message to camper@campkirk.com. Once received, we print off a copy and place the message in a camper's mailbox. If a camper is keen to send a message back, they can handwrite a letter to be scanned and emailed home.
NOTE: Staff members can scribe notes if writing is not a camper's strong point.
Generally, campers are not allowed to call home as a method to stay in touch. In our experience, telephone conversations can often be more detrimental than helpful – calls with family members can prevent campers from tapping into the support system at camp. Calls are only done on a case-by-case basis as arranged with the Camp Director. Families, however, are welcome to call the Camp Director at any time to receive an update on their camper's stay.
How does medication work at camp?
Our Healthcare Coordinator is responsible for safely storing, managing and dispensing all prescription and over-the-counter medication at camp.
For daily medication, a camper will receive their meds at the same time and in the same manner they do at home. Because the camp schedule can look very different than a home schedule, we often work with families to adjust the medication plan to suit their child's needs in the camp setting.
NOTE: If medication is needed to help a child get the most out of a school environment, the support will likely be just as helpful within the intensive social environment of camp. We encourage families to consider this before opting to take a 'medication vacation' while at camp.
Do you have campers with bladder/bowel difficulties?
Absolutely – we always ensure kids and youth with incontinence issues have a supportive environment and that they feel comfortable, at ease, and well supported in an overnight camp setting. 
During your Home Visit, we will go over our support system for campers with bladder/bowel difficulties so your child can feel well prepared for the camp experience. Our support system includes:
Dedicated change space:

Our Health Hub has a change room with a set of cubbies. On arrival day campers who have 'Daywear' or 'Nightware' (i.e. diapers, pullups or extra underwear lining) will be given their own cubby to store their supplies. When a camper needs to change in or out of their daywear or nightwear, they simply head to the changeroom with a change of clothes.

Laundry facilities:

Each camper has their laundry done every other day. However, if a camper has an accident their clothes and/or sheets can be sent down to the laundry immediately. 

Staff support:

The staff are trained to understand the feelings and needs of campers who have incontinence issues. Staff understand that campers may be embarrassed about their incontinence and will be discreet about providing help and support. Staff are also trained to schedule in regular washroom breaks for their campers.

Understanding environment:

Incontinence issues are common – particularly for kids and youth with learning disabilities and ADHD. On the first day of camp we talk about this, so campers do not feel insecure if an accident happens. 
What is the food like at Camp Kirk? Can my child stay on their special diet while at camp?
We strive to offer a menu that is 'kid-friendly', nutritious, and adaptable to many types of eaters. All our meals are served 'family-style' in our Dining Hall. Each meal has a main dish and side dishes served at the cabin table, but campers also have the option of cruising the salad bar (lunch + dinner), or porridge bar (breakfast). To please the masses, we often serve 'build-your-own' meals (ex: spaghetti, sauce, and meatballs in separate serving bowls). 
Two healthy snacks are served each day- one in the mid-afternoon, and another before bed. A snack table is also accessible at all points in the day and night for campers whose appetites may be affected by their medication. 
Vegetarian and gluten-free diets can be accommodated at camp – families are asked to select these diet options on their Health Form. We most likely will be able to accommodate other specialized diets – we are flexible, and are keen to work hand-in-hand with families to assess how we can meet their child's dietary needs at camp.
Does Camp Kirk provide night supervision?
Each night we have two staff members on duty between the hours of 10:00 pm – 7:45 am. These staff members sleep during the day so that they are awake and attentive to the needs of the kids during the night. 'Night Watch' are stationed in our central Dining Hall, and they check each cabin group every 45 minutes to ensure the campers are asleep.
If a camper wakes up during the night and needs help, they can either: 1) stay in their bed and wait till Night Watch comes to their cabin, or 2) walk across to the Dining Hall and meet the Night Watch there. 
How do you approach homesickness at camp?
Homesickness is quite common, and is a normal part of developing independence. No doubt about it, though – it is not a good feeling! There are many ways to reduce the chances or the degree of homesickness. Here's our approach:
We're on the lookout:

The Camp Kirk staff keep their eyes peeled for signs of homesickness, and know that these feelings are most likely to pop up during unstructured or less active points in the day (i.e. first thing in the morning, bedtime, meals times, etc.). 

We validate the feeling:

We listen to hear how a camper is feeling – are they missing home, having a hard time settling into the new environment, or both? We talk about how homesickness is not a good feeling, but that it is completely normal (no matter how old you are!).  

We make a plan to connect with home:

Writing an email home can be helpful, and we encourage campers to tell their families the honest truth about how they are feeling. While writing the letter, we also encourage campers to write about what they are enjoying, or what they may be looking forward to- this can help the camper process the positive and negative feelings of the camp experience. 

We create a plan to connect and get busy:

After providing a listening ear and some TLC, we talk about making a plan to make camp feel a bit more comfortable – who is one person you'd like to build a friendship with, and what is an activity that we can look forward to doing together? Typically, this looks like inviting a cabinmate to go swimming, planning a special cabin activity with a staff member, or even just making plans to do their favourite program at free time. The focus is on

doing.

Keeping the body busy can help keep the mind busy – both help with easing the feelings of homesickness. 
I'm worried my child will be homesick. What can I do to prepare them for camp?
Include your camper in the planning process

: As early as possible, include your child or youth in the process of looking for a suitable camp. Talking openly about going away to camp, and the benefits it can bring, can help build excitement and ownership over the experience. 

Normalize homesickness:

Build the expectation that going to a new environment is an adventure, which means they may feel unsettled at first and miss home- that's a totally expected and normal feeling. Let your child or youth know that you may miss each other, but reassure them that you will be reunited after camp.

Focus on camp fun:

After validating their feelings, help your child or youth focus on what they can look forward to. If your camper is homesick during the session, place the emphasis in your communication on what they are enjoying at camp and minimize chat about what is going on at home. 

Be proud!:

Tackling homesickness is not easy and takes a great deal of emotional effort. Tell your camper that you are proud of them- they are taking on a new challenge and learning the skill of being independent.

Monitor your own feelings:

Quite often family members are the ones that have the toughest time with their child being away from home. If you're in this category, know this is normal, but also remember that your words and actions will shape the camp experience for your child. Role model how to manage anxious feelings about camp, and remember that you are helping your child build independence.
Who are the staff caring for my child
All our staff are 19+ years old. Many are studying or working in related fields such as education, social work, or therapeutic recreation. The common thread amongst all staff members- they love kids, and are looking to make the world a more inclusive and welcoming place for all.
There are two key qualities that we're looking for when we recruit staff- a good head and a good heart. We seek out individuals who are compassionate, eager to learn from others, and who aren't afraid to try different approaches (even if it means failing!). We look for individuals who can see the good in others, who seek out the silver lining in any situation, and who are ready to take a deep breath and try again. We know these are the qualities that parents, grandparents, and caregivers lean on to care for our campers, so we seek out these qualities in our staff. 
We put a big emphasis on staff training.  To prepare for the summer, the entire staff takes part in an intensive 10-day training period. During this time staff are trained in child-centered care, positive behaviour management, therapeutic crisis prevention and intervention, and concepts and strategies to support neurodiverse kids and youth. We also spend plenty of time doing team-building activities to ensure our staff is a united team. 

To learn about our Camp Directors, office staff, and board of directors, visit Our Community page.
Apply
Login to the Family Portal and start your camper application
+
Submit An Inquiry
Contact our Team to learn if Camp Kirk is a good fit for your child
+