Updated: May 4, 2021
What a Night!
Over 150 households joined us last week in support of  our campers and together we raised $53,000! This is a huge accomplishment for our community, and these funds will ensure our programs remain financially accessible for our campers and their families.
Watch the replay of the Showcase Vol. II here:
Join us for Camp Kirk Showcase Vol. II
We loved our first virtual showcase so much, we've decided to do it again.
On April 29th, stay home and join us for an evening filled with music in support of our campers. Ticket purchase is by donation, and it will be matched dollar-for-dollar by Dean Connor and Maris Uffelmann – doubling the impact of your gift!
All funds raised on the 29th will help empower neurodiverse kids and youth to reach their potential.  Through therapeutic recreation programs,  your support helps kids with attention deficit disorders, autism, and learning disabilities build their confidence and a sense of belonging.
Donate to attend the Showcase and help us reach our $25,000 goal!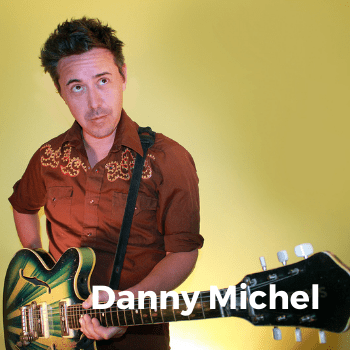 Danny Michel
Danny Michel is a Canadian songwriter and producer.  His own self-described musical A.D.D. has kept Danny's music fresh and exciting for a few decades now, and his thoughtful lyrics & earnest performances have earned him a devoted fan base, nominations for three Juno awards, The Polaris Prize, and The CBC's "Heart Of Gold". With a pile of albums under his belt, Danny is unquestionably one of Canada's finest songwriters whose hopeful songs find a home in everyone's heart
You can check out his latest album on his website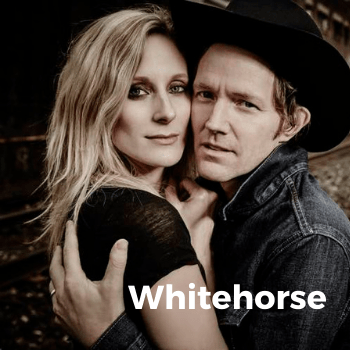 Whitehorse
A collaboration between veteran Canadian singer/songwriters Melissa McClelland and Luke Doucet. Based in Hamilton, Ontario, they released their self-titled debut on Six Shooter Records in 2011. Since then they have been shortlisted for the prestigious Polaris Prize and in 2016 they won the Juno for Adult Alternative Album of the Year.
Their latest Album, Modern Love, drops on March 19th.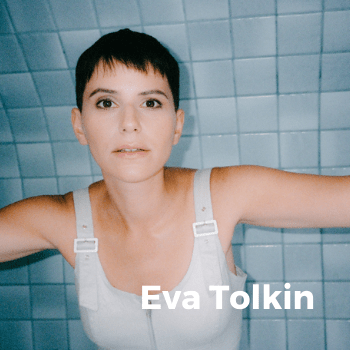 Eva Tolkin
A singer-songwriter from Toronto, Canada. She resides in New York City where her reputation as a highly sought after vocalist begets her burgeoning career as a solo pop artist.  Eva's music career got a jump start following a serendipitous encounter with the alternative fashion and pop music icon, Solange Knowles.
You can stream her latest album, Truthfully, on Spotify.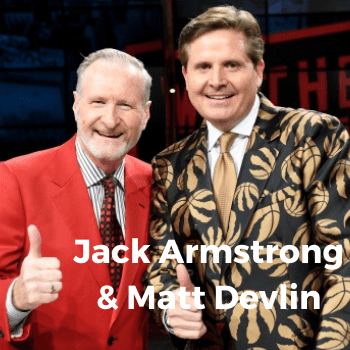 Matt Devlin
Devlin is live at courtside calling the action for every Raptors game on TSN. In 2020 he won the 2020 Canadian Screen Award for Best Sports Play-by-Play Announcer and was named Sports Media Canada's Broadcaster of the Year in 2019.
Jack Armstrong
Jack "The Coach" Armstrong is TSN's Basketball Insider, keeping fans in the loop on everything happening around the NBA and college hoops. He also joins Toronto Raptors play-by-play announcer Matt Devlin as a game analyst for all Raptors broadcasts on TSN.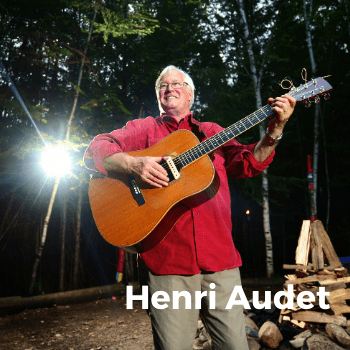 Henri Audet
Born in Quebec City, Henri has been a professional musician, a singer-songwriter, and  worked in the recreational camping industry for over 40 years. He co-founded Camp Kirk in 1993 and dedicated most of his life raising children's and youth's self-esteem through the camp experience.
Henri retired to Huntsville in 2017, and loves leading a sing-song for our campers.  No Camp Kirk concert is complete without Henri singing a Camp Kirk classic.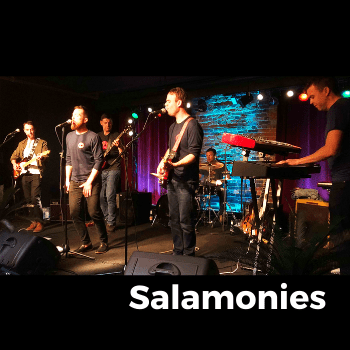 Salamonies
The Salamonies are a Charity Cover Band born in the smouldering fires of Northern Ontario + a guy who owned a bass.  When we're not in a lockdown, you can find them playing at events across the city of Toronto and beyond.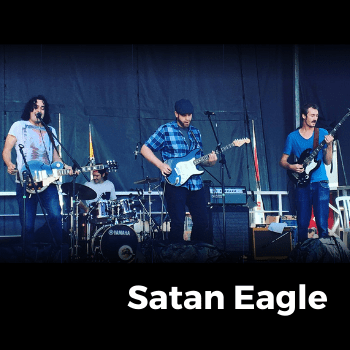 Satan Eagle
Satan Eagle (singular, non-possessive) is a band of mythical proportions that plays rock and roll music.
When, Where and Wear
When: 7:30 pm to 8:30 pm on Thursday April 29th, 2021
Where:  The comfort of your own home! You'll receive the link to the live stream video with your donation confirmation.
Wear: Whatever your heart desires – Your favourite jeans, yoga pants, PJs, or a Camp Costume.
Tickets
Ticket price: Recommended minimum donation of $25/household.
You can book tickets online (below), or by calling Tara at 416.994.4750
You'll receive a charitable tax receipt for the full amount of your purchase.
From now until April 29th, Dean Connor and Maris Uffelmann will be matching your donations/ticket purchases dollar for dollar up to $25,000! Both one-time and monthly donations will be matched. After a year of lockdowns, our campers and families need Camp Kirk more than ever – your support today will ensure that the Camp Kirk community will be there for them! 
What to Eat
There's no need to stress about what's for dinner on event night! We've collaborated with some of Toronto's best restaurants to bring some of our favourite food to your home. Stay tuned for more to come!

Boland's Open Kitchen
Located south of Eglinton on Mount Pleasant Roncesvalles, Boland's Open Kitchen serves delicious Canadian Comfort food. Boland's is donating 15% of showcase orders to Camp Kirk.  Owner and Chef Chris Boland is working on a menu for the showcase that we'll share by April 20. Order by Wednesday April 28th at noon. Promo Code CAMPKIRK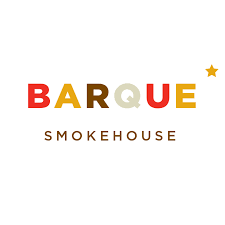 Barque
Located in Roncesvalles, Barque has been serving Torontonians delicious BBQ since 2011. Barque is donating 15% of showcase orders to Camp Kirk.
Check out their menu at Barque.ca. Order by Wednesday March 28th at noon. Promo Code CAMPKIRK.
Supporters
A very big thank you to our sponsors. With your help our campers have a place to build confidence, connection and community.  If you are interested in partnering with Camp Kirk contact tara@campkirk.com.