Please join us in welcoming Gabi Stan to the Camp Kirk Office Team! Gabi will be with us in the role of Assistant Camp Director between now and September 2022. Over the winter and spring, Gabi will be working closely with our Camp Director Victoria to host our CK Community Weekends, and to prepare for our big return to camp this summer. Come summer, Gabi will be leading the way at camp and making sure both the staff and campers are getting the most out of their camp experience.
Although new to the full-time office team, Gabi is a long-time Camp Kirker and we couldn't be more thrilled that she'll be supporting our camper families and staff this year! Take a read below to learn more about Gabi.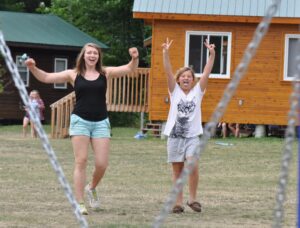 "Hello! I'm Gabi, I'm returning this year as the Assistant Camp Director here at Camp Kirk. I worked at Camp Kirk from 2013-2017, first as the Martial Arts Instructor, and then in later years as the Program Director and Counselling Director. Since my summers at camp, I've worked for neighborhood houses running after-school and outdoors programs for at-risk youth and children, as well as at my local martial arts gym teaching Brazilian jiu-jitsu. In the last several years I've been working for the Vancouver School Board supporting students with diverse needs. 
I am so excited to be returning to camp this year! Camp Kirk is a place full of amazing humans of all ages, where people discover strengths they didn't know they had and form friendships that can last a lifetime. Camp is a place really close to my heart, and I can't wait to be a part of the magic again this summer!"